Specialty and gourmet foods is not something you would typically think of when you think of affiliate marketing, but like I always say – you can buy everything online these days. Gourmet food can include anything from gourmet steak, to gourmet chocolates, to freshly made items like custom cakes and international delicacies like fresh seafood. If you can buy it, you can buy it online.
Not all super gourmet items have affiliate programs, but many do. It wouldn't be out of the question to be able to make sales selling smoked salmon or single-origin dark chocolate. You just have to investigate and see what you find, and what's relevant to your food related blog.
Gourmet foods sales tend to spike during holidays, especially Christmas, but there are foodies year round who are ordering specialty items for themselves, so if you find the right audience for the right niche, you can somewhat reduce the seasonality of this niche. For example, buying gourmet ribeye steaks on a keto blog would be a year-round activity!
Gourmet Food Affiliate Programs
Snake River Farms
Gourmet Gift Baskets
Cheese Grotto
Harry & David
Nuts.com
Pinch of Yum
Gourmet Chocolate Of The Month Club
Farm Foods
Gourmet Food Store
The Prepared Pantry
1. Snake River Farms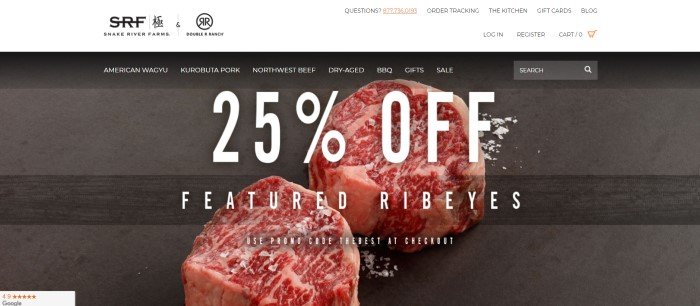 Snake River Farms and its sister company, Double R Ranch, provide quality gourmet meats. These include specialty products such as American Wagyu beef, Kurobuta pork, Northwest source-certified pork, and dry-aged beef cuts.
The menus of some of the best restaurants in the world include meats from Snake River Farms. Chefs also like to cook with Chef's Gold, which is dry-aged beef fat that they can use to bring out the flavor in their recipes or to add dry-aged flavor to cuts of beef.
Individual customers can order their own meats directly from Snake River Farms online. The average order value is $191, with an average affiliate commission of $13. Snake River Farms administers its affiliate program through ShareASale.
Why You Should Promote Snake River Farms: The products are high-end, and the company offers monthly promotions.
2. Gourmet Gift Baskets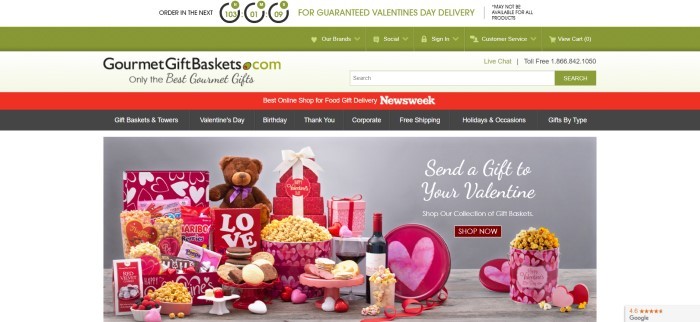 Gourmet Gift Baskets sells gift baskets and food towers under four different brands, including Strawberries.com and Cheesecake.com. The affiliate program with Gourmet Gift Baskets allows affiliate marketers to promote products from all of the subsidiary brands.
The gifts include fruit baskets, gluten-free baskets, meats and cheeses, baked goods, chocolates, beer and wine, popcorn, and more. Many of the items have free shipping, and several of them can be pre-scheduled for delivery on a certain date, such as a holiday or a birthday.
Gourmet Gift Baskets runs its affiliate program through Radius Impact. Banner ads, text ads, and product links are provided for affiliate marketers who want to promote the products.
Why You Should Promote Gourmet Gift Baskets: This company doesn't list its commission rate, so it's hard to say how much you could make as an affiliate marketer. However, the great selection of gift ideas and the ability to schedule delivery could attract shoppers.
3. Cheese Grotto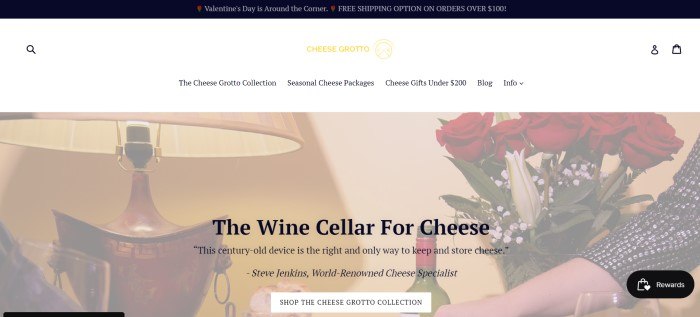 The Cheese Grotto is a high-end cheese connoisseur company that provides customers with seasonal cheese packages as well as products such as serving boards, cheese humidifiers, and cheese grottos for storing cheese.
The seasonal cheeses can be purchased in bundles of two or three cheeses. There is also a cheese subscription package that delivers a quarterly cheese bundle of 2 lbs. to customers for around $65 a shipment, with free shipping.
Some of the products, such as the Grotto Classico, have relatively high price tags, but the website does have a tab for customers who want to order cheese gifts for less than $200 each. The affiliate program is administered by Affiliatly.
Why You Should Promote Cheese Grotto: The products are unique and definitely fit a niche market. The commission rate is decent, too.
4. Harry & David
5. Nuts.com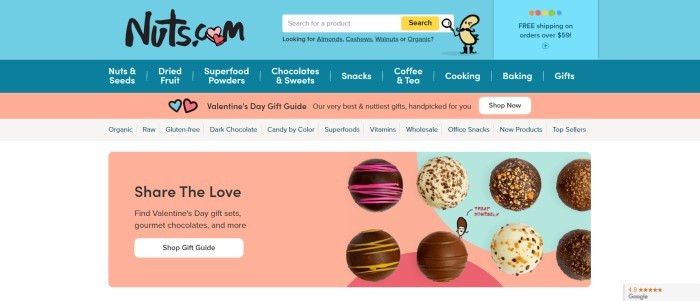 Nuts.com Family is a gourmet food business that sells items from several specialty categories. In the baking section, for example, nuts.com carries coconut, gluten-free flours, and cocoa powder. Other categories include items like dried fruits, nuts, seeds, superfood powders, coffees, teas, and snacks such as popcorn and pretzels.
This company started out as a small family business in 1929. It currently stocks more than 3,000 products and has over 40,000 testimonials from happy customers. Besides the 8% base commission for new customers, affiliate marketers make a 2% commission from repeat customers.
Why You Should Promote Nuts.com: Nuts.com provides a monthly affiliate newsletter containing affiliate incentives and blog post ideas. The repeat customer commissions are nice, too.
6. Pinch of Yum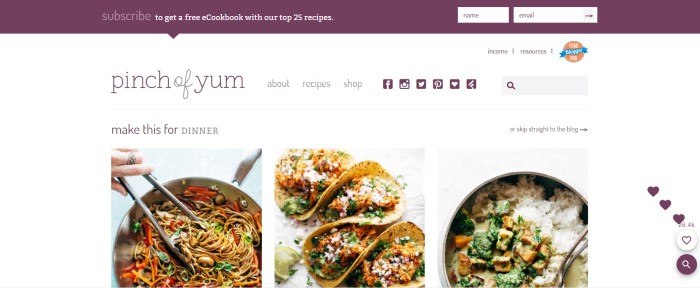 Pinch of Yum is an online recipe website with a recipe section, an informational blog, and a store where gourmet home chefs can purchase cooking equipment such as instant pots or food processors.
The main product is an eBook called Tasty Food Photography, and this is the product that the affiliate program is set up for. Affiliates earn commissions of 50% for referred sales of this eBook, which is currently priced at $29. This company has a secondary affiliate program through Food Blogger Pro.
Both of the affiliate programs are administered through ShareASale.
Why You Should Promote Pinch of Yum: The gourmet recipes could attract shoppers, and the topic of the eBook could fit well with some niche market strategies. The commission rate and cookie length are great, too.
7. Gourmet Chocolate Of The Month Club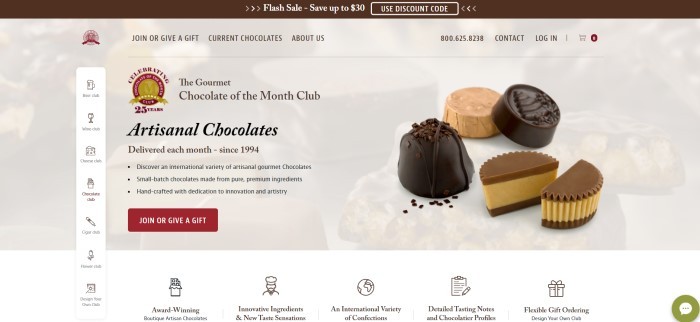 The Gourmet Chocolate Of The Month Club provides a subscription program that includes several new specialty chocolates to try every month. The monthly subscription service costs around $41 per month, and there's also a $14 shipping fee, so the boxes are a bit pricey. However, customers can also choose to order one-time gifts instead of subscriptions if they choose.
The program features top chocolatiers like Jean-Marie Auboine Chocolatier, Droga Chocolates, Torn Ranch, and Mayana Chocolates. Each box comes with approximately one pound of gourmet chocolates.
One interesting thing about The Gourmet Chocolate Of The Month Club is that it's sponsored by MonthlyClubs.com, which hosts similar monthly subscription-based services for beer, wine, cheese, cigars, and flowers. MonthlyClubs.com got its start in 1994 with its first subscription service, which promoted micro-brewed beers.
Why You Should Promote The Gourmet Chocolate Of The Month Club: The $12 commission works out to about a 29% commission rate, which is pretty decent. The subscription boxes could appeal to chocolate enthusiasts, too.
8. Farm Foods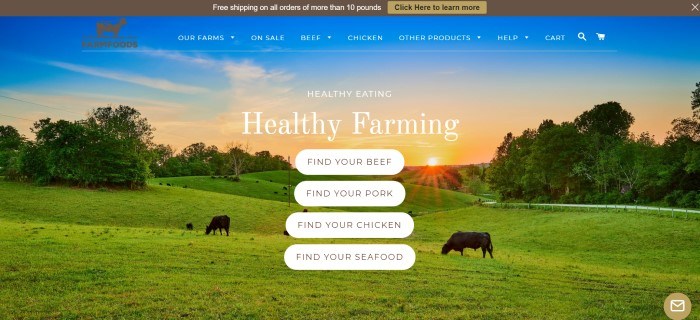 Like Snake River Farms, Farm Foods focuses on providing gourmet beef. With Farm Foods, the beef is 100% grass-fed and is sourced from local family farms. Products are shipped across the United States. Orders of 10 pounds or more are shipped for free.
The 15% commission rate averages around $16 in commission, and the average order value is around $120. The conversion rate is around 4% for the general public and around 10% for people who have been educated about the benefits of eating grass-fed beef, healthy eating, and buying from local farms.
Customers order individual products, so they get exactly what they want, and they get to see which farms the beef they order comes from.
Why You Should Promote Farm Foods: The ability to see which farms the beef comes from gives customers some social buy-in as well as getting excellent products. For affiliates, the high order value, high conversion rates, and relatively high commission rates are great, too.
9. Gourmet Food Store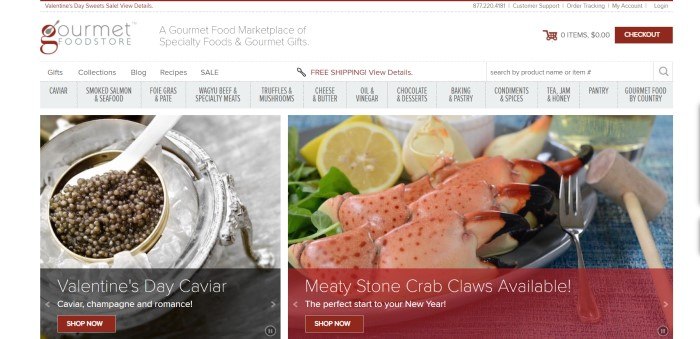 Gourmet Food Store is an online shop where customers can purchase hard-to-find items such as caviar, smoked salmon, and truffles.
This company has three sister companies, and all of them are included in the affiliate program. The sister company Gourmet Food World is designed for chefs, and it includes ingredients such as spices and meats, as well as more than 300 types of cheeses. The sister company Steaks And Game focuses on meats, and the sister company Gourmet Wholesaler provides gourmet foods to restaurants, chefs, and specialty stores.
Affiliate marketers are provided with text links, individual product links, banner ads, and other promotional products.
Why You Should Promote Gourmet Food Store: With its three sister companies, Gourmet Food Store covers a wide range of gourmet food products and possible outlets. This increases the ability to market to specific target audiences. The commission rate is nice, and the products are high-end, so they come with decent price tags that could boost affiliate earnings per sale.
10. The Prepared Pantry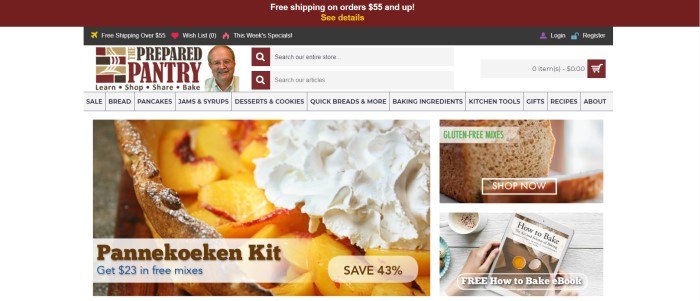 The Prepared Pantry sells gourmet baking mixes, seasonings, cooking gadgets, grilling tools, cake decorating supplies, and more. The company also provides more than 50,000 free cooking and baking ideas in its eBooks, magazines, and blog posts.
Customers can browse through categories such as types of bread, breakfasts, desserts, drinks, holidays, main dishes, and sides from the blog site, as well as similar categories from the main page.
The base commission rate is 5%, but it can go up to 20% depending on how much volume an affiliate marketer sells. Average order values for most of the year are around $67, with higher prices in the winter, and average order values for gifts for others are around $25-35 per order.
Why You Should Promote The Prepared Pantry: The gourmet mixes and products are relatively affordable, which could boost shopping cart totals. The volume-based commission rates can provide some incentives for extra marketing, too.
Affiliate Website Ideas
Now that you've read about the top 10 gourmet food affiliate programs, how will you weave them into your niche market strategies? I'll share a few ideas here that I came up with. You're welcome to use them to jumpstart your own niche website ideas.
For example, you could create a website dedicated to meals that feature fish and seafood as the main ingredients. A website like this one could feature gourmet fish and seafood, recipes, and cooking instruments. It could also feature deep sea fishing tours, fish oil nutritional supplements, and eBooks or other digital information describing the benefits of eating more fish and seafood.
Another idea is a website dedicated to creating memorable birthdays. Gourmet gift baskets, cakes, and other specialty food items could be promoted here, as well as electronic and print invitations, themed party decorations, and activities including items such as karaoke machines, rental bounce houses, or carnival-style games.
One final idea is a website that caters to people who like wild games. Gourmet meats could be featured here, but you could also promote hunting gear, dehydrators, food processors, and recipe books.
Boost Your Affiliate Earnings
These 10 affiliate programs are just the beginning of what's possible. There are hundreds of ways to earn affiliate commissions with your website, including product reviews, top 10 lists, how-to guides, and more
But what about traffic and conversions? How do you make sure your affiliate links get clicked?
I used the affiliate training here to turn my brand new website into a six-figure income generator in less than two years. Build a business, not just a pocket-money side project!
Nathaniell
What's up ladies and dudes! Great to finally meet you, and I hope you enjoyed this post. My name is Nathaniell and I'm the owner of One More Cup of Coffee. I started my first online business in 2010 promoting computer software and now I help newbies start their own businesses. Sign up for my #1 recommended training course and learn how to start your business for FREE!