Do you remember doodling during high school? Back in the day before computers were so ubiquitous, us older people sometimes used the covers of our notebooks, the margins of their papers, and sometimes even their desks.
I'm guessing younger generations have drawing applications on their devices, so who needs paper?
While it might only seem like a way to pass time when you're bored, there are a lot of good reasons to learn how to sketch. Sketching can help you learn to focus and concentrate, and it can increase your eye-hand coordination. It can also be useful in some career settings, such as UX Designers, where the act of sketching by hand allows creativity to flow.
It's also useful for affiliate marketers. If you're interested in sketching or other forms of design and art, this list of the top 10 sketching affiliate programs can give you some great ideas for niche websites and how to get started.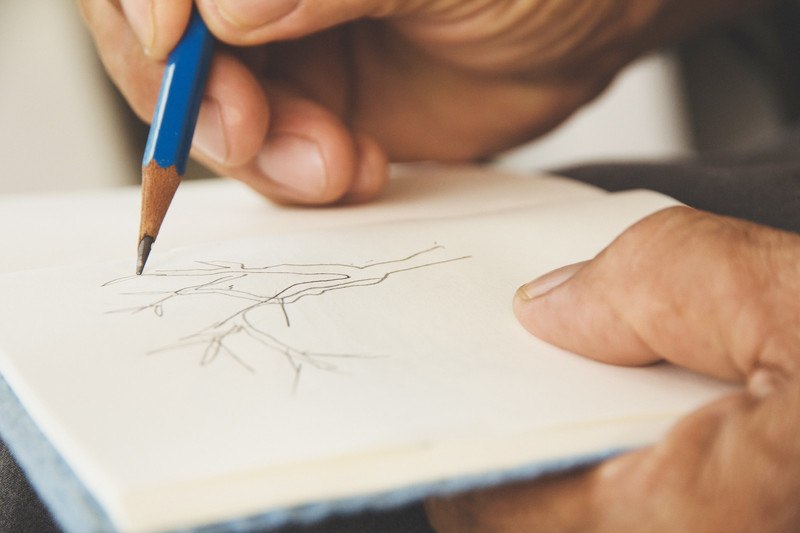 Sketching Affiliate Programs
Artists Network
The Secrets To Drawing
From Sketch To Oil Painting
Draw Store
Kiniyo
Learn To Draw Like A Pro/Drawing Secrets Revealed
Utrecht
Arteza
MisterArt
Dick Blick Art Supplies
1. Artists Network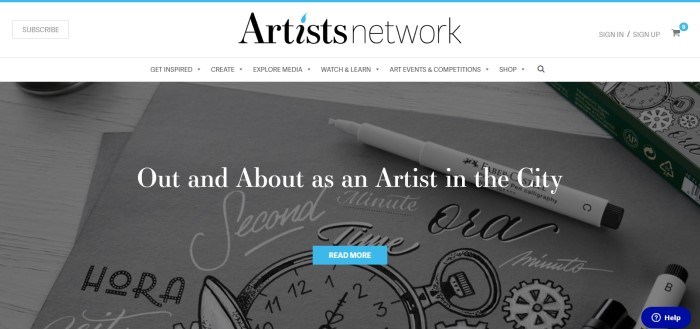 The Artists Network website includes some great resources for sketchers, artists and draftsmen. There's a podcast, tutorials, information on different types of mediums, and contests and scholarships. For affiliate marketers, the commissions come when your website visitors buy something from the Artists Network store.
The store includes mostly videos, books, and magazines, including some pen-and-ink ideas for sketching newbies.
Artists Network uses LinkShare to administer their affiliate program. Banners and links are already created and ready to go.
Why You Should Promote Artists Network: Affiliates get dedicated email and telephone support, as well as affiliate-only discount offers.
2. The Secrets To Drawing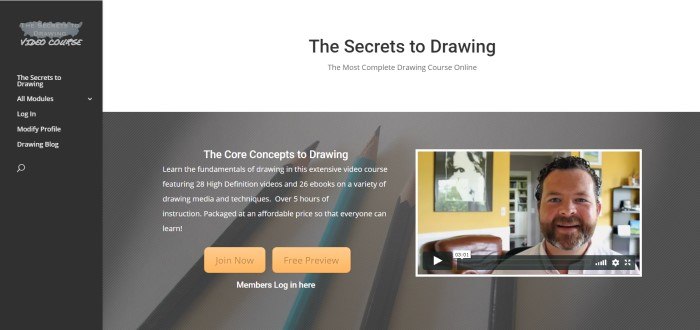 The Secrets to Drawing is a video course. It's divided into four sections of seven modules each. The first section teaches the basics of sketching, including the understanding of line, form, value, space, shape, and perspective.
The second section brings in the ideas of 2-point and 3-point perspective, drawing techniques, and how to draw from life. In the third section, customers learn about drawing with various mediums such as charcoal, pastels, and colored pencils, as well as more about how to draw facial proportions. The final section zeroes in on specific facial features, such as the eyes or the nose.
There's also a drawing blog on the website, which covers topics like why you need a sketchbook, why sketching is a skill rather than a talent, and the importance of value and light in sketches.
This company administers its affiliate program through FlexOffers.
Why You Should Promote The Secrets To Drawing: Because it's an online video course, it's easy for customers to click through, make purchases and get their product right away. This means affiliates can cash in on impulse buying.
It's also got a really great commission rate. At only five sales a day, an affiliate can make more than $2,000 a month.
3. From Sketch To Oil Painting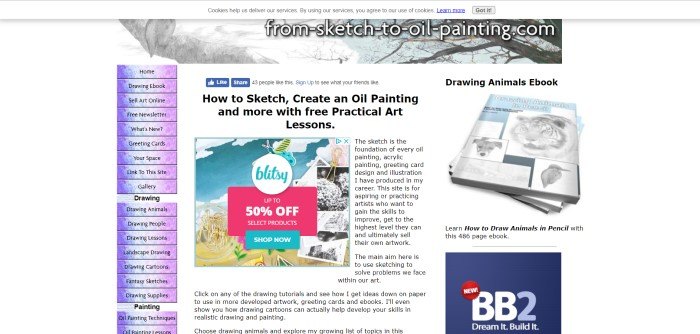 From Sketch To Oil Painting is a website that shows people how to draw everything from fantasy scenes to people. There are also lessons on oil painting. For affiliates, the real draw is the e-book, "Drawing Animals In Pencil."
The e-book has 480 pages of detailed content with around 900 step-by-step illustrations. The professional artist who wrote the e-book believes that anyone can develop drawing as a skill, and it's worded in a way that customers can feel encouraged enough to try. This could result in more affiliate sales.
The lessons on the website are free, and they're used in conjunction with or to back up the principles taught in the e-book. ClickBank administers the affiliate program.
Why You Should Promote From Sketch To Oil Painting: The 75% commission is a big motivator. The author's encouragement and offering of free video lessons to accompany the book could increase conversions, as well.
4. Draw Store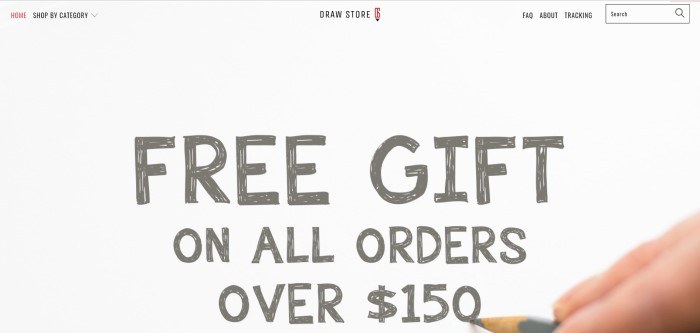 The Draw Store is a supply store for artists, designers, and crafters. Drawing supplies include sketchbooks, pens, pencils, markers, pastels, calligraphy supplies, erasures, and blenders.
The store also sells painting supplies. Overall, the pricing for sketching and painting supplies is fairly reasonable, which is what the Draw Store aims for. The average order total is around $50.  
Affiliates get personalized support and discounts that they can share to attract customers.
Why You Should Promote Draw Store: All customers who spend $150 or more on supplies get a free gift. This could increase both the conversion rate and the number of items that customers purchase.
5. Kiniyo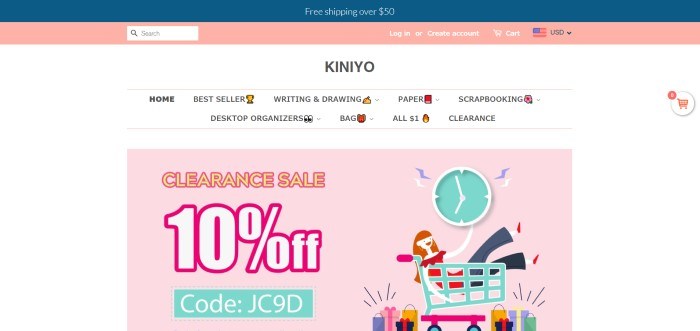 Kiniyo is a supply site covering everything from craft paper to pens and stickers. There's a sale section on the home page, where clearance items can be purchased. Some items can be grabbed for $0.99. Kiniyo provides free shipping on orders of $50 or more.
For people who sketch, the writing and drawing tab will be the most helpful. On this page, customers can purchase pencils, gel pens, refills, markers, pens, crayons, erasures, and sharpeners. There's a separate page for papers, where several types of sketchbooks are sold.
Why You Should Promote Kiniyo: Affiliates who have 50,000 followers or more can request to review items for free. You could also get a $100 Amazon gift card if you suggest products for the store to carry and they like your idea.
6. Learn To Draw Like A Pro/Drawing Secrets Revealed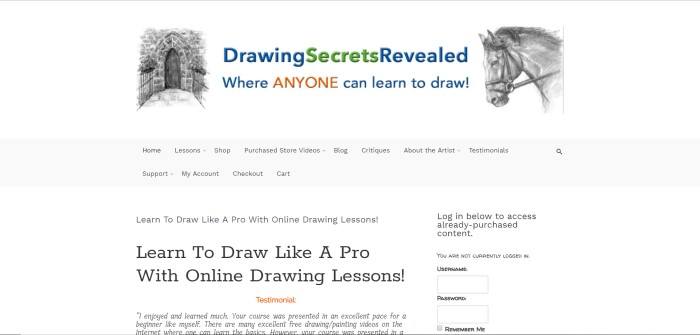 Learn To Draw Like A Pro is an online drawing lessons website. The lessons start from the very beginning, with an introduction, and advance from drawing basic shapes all the way through landscapes and the elements of composition. There are twelve lessons in all.
Some add-on videos, such as how to draw an ear, can be purchased separately from the full course. Other videos include how to use graphite and coal and how to draw reflective objects, such as water.
Customers can also commission the artist, Sarah Parks, to create a portrait for them. Most product prices range from $15 to $300.
Why You Should Promote Learn To Draw Like A Pro: The commission rate is great, and there are different options for purchasing the lessons. This could help people who are nervous about buying the entire course follow through with a purchase by choosing a smaller package geared toward beginners.
7. Utrecht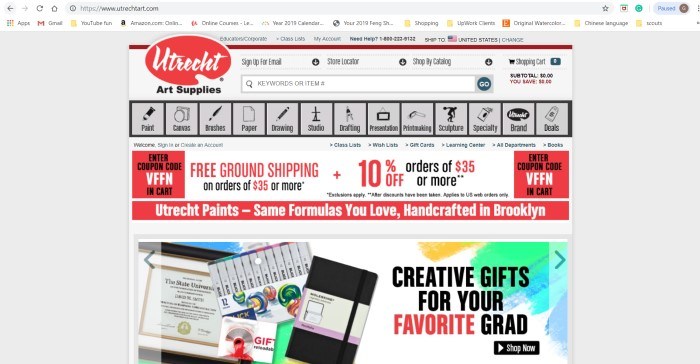 Utrecht provides art supplies to artists, teachers, and students. In the online store, the supplies are sorted into categories, such as drawing, drafting, painting, and paper. The sketching supplies include a nice variety of pens, pencils, markers, and crayons. The average order size is around $125.
One thing that stood out about this store was its drafting section, which I hadn't seen with other online art supply stores. Utrecht also sells a wide variety of sketch pads and drawing paper, and there were a few e-writers for sale, too.
Why You Should Promote Utrecht: The product prices are reasonable, and there's a lot to choose from. This could result in a relatively high number of items in shopping carts and bigger associated affiliate earnings.
8. Arteza
Arteza provides affordable but quality arts and crafts supplies – from painting and drawing to quilting and claying, basically supplies that can support creativity with high-grade products. You can purchase art supplies individually or can also go for their art sets and bundles which include art sets, coloring bundles, craft bundles, drawing sets, and others.
One can also earn points for every dollar spent on their website or by subscribing to their emails. Each membership level earns a different amount of points. They also have a 30-day 100% satisfaction guaranteed return policy. All you have to do is return the unused item(s) in its original packaging and they will refund your total amount.
Their affiliate program is run through ShareASale.
Why You Should Promote Arteza: They have a 4.7 stars average product rating. Arteza is committed to a sustainable future and has partnered with One Tree Planted. Each purchase of Arteza art supplies contributes to their commitment to planting 10k trees around the united states.
9. MisterArt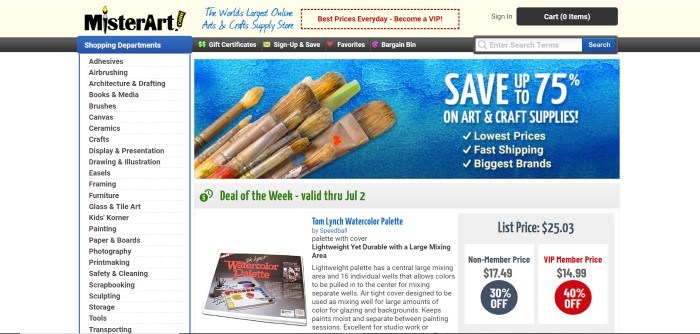 MisterArt, another art supply provider, has a department specifically for drawing and illustrating. Besides the normal pens, pencils, and pastels, the company also carries chalks, drawing and lettering aids, and storage solutions.
One thing I like about MisterArt is its nice collection of books on drawing and sketching. There are books for beginners, but there are also books detailing how to draw everything from Manga and cityscapes to human hands.
The affiliate program is administered through CJ. Customers get free shipping on orders of $200 or more.
Why You Should Promote MisterArt: MisterArt is one of the first online art supply stores and has been around since 1996, so it's built a nice reputation and credibility that could help shoppers become buyers. The selection for customers is great, too, and that could keep them shopping longer.
10. Dick Blick Art Supplies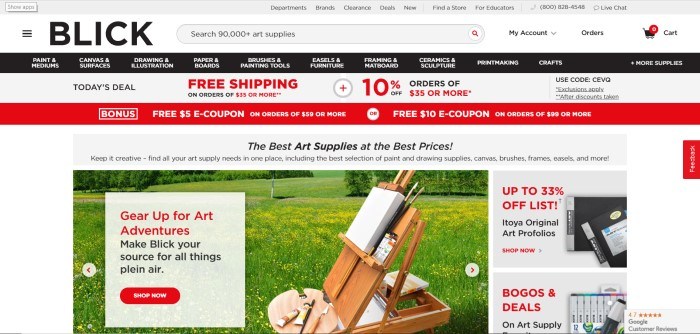 Dick Blick Art Supplies also has a specific tab for drawing and illustrating supplies. Among the various pencils, pens, markers, and crayons, shoppers can also find fixatives for finishing their sketches and drawings.
This company has one of the nicest collections of sketchbooks I've seen in an art supply store yet. There are around 40 hardcover sketchbooks. There are also softcover sketchbooks, wire-bound hardcover sketchbooks, and wire-bound softcover sketchbooks.
Customers get free shipping and 10% off on orders of $35 or more. This company also has featured videos that can teach sketchers different artistic elements, such as drawing in layers.
Why You Should Promote Dick Blick Art Supplies: The free shipping and automatic savings for customers is a nice draw, and the wide variety of products to choose from could increase the overall shopping price.
Affiliate Website Ideas
Now that you've read about the top 10 sketching affiliate programs, how will you use them in your niche market websites? If you don't yet know where to start, consider the following ideas.
"Sketching" doesn't have to be about animation. A niche website that focuses specifically on career-focused sketching could be really interesting. A website like this could explore the role of sketching in UX designing, as well as sketching as an aid to architects, engineers, and even marketing and sales strategists.
Besides sketching supplies and tutorials, affiliates could promote sketching software programs, image alteration apps, and electronic drawing tablets.
Another niche website idea is a sketching website just for children or for people who are retired. Catering to specific age demographics would mean offering tutorials, videos, and courses on different levels. Software, electronic sketching supplies, and even publication or sales opportunities would be represented differently depending on the age range that a website like this would target.
What about a niche website that focuses specifically on learning to sketch or draw flowers? Besides promoting educational opportunities and supplies, marketers could also promote florist shops, garden centers, and landscape design software. Though this may seem too specific to start a site on just this one topic, you could incorporate many ideas about enjoying nature and spending time outdoors to flesh out more content ideas.
Boost Your Affiliate Earnings
These 10 affiliate programs are just the beginning of what's possible. There are hundreds of ways to earn affiliate commissions with your website, including product reviews, top 10 lists, how-to guides, and more
But what about traffic and conversions? How do you make sure your affiliate links get clicked?
I used the affiliate training here to turn my brand new website into a six-figure income generator in less than two years. Build a business, not just a pocket-money side project!
Nathaniell
What's up ladies and dudes! Great to finally meet you, and I hope you enjoyed this post. My name is Nathaniell and I'm the owner of One More Cup of Coffee. I started my first online business in 2010 promoting computer software and now I help newbies start their own businesses. Sign up for my #1 recommended training course and learn how to start your business for FREE!