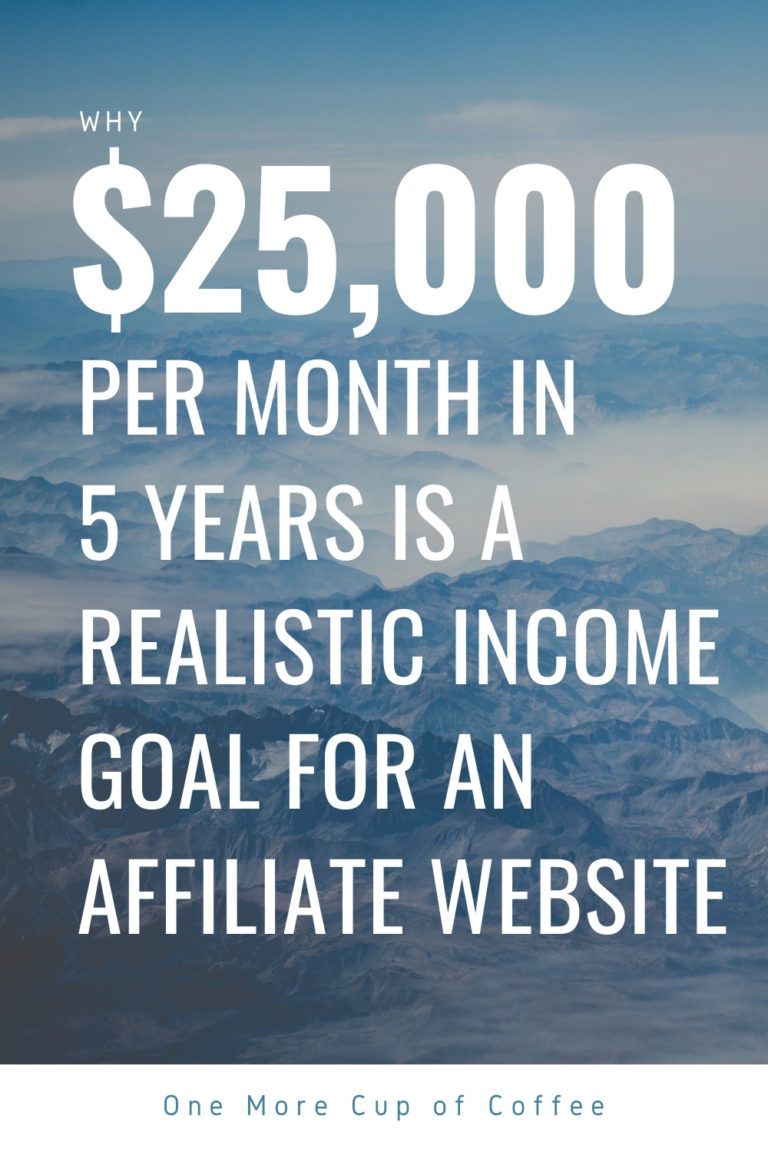 Honestly, I think the #1 reason people quit working on their affiliate websites is because they stop believing it's possible that they can actually earn money from their website. Even if the "official" reason manifests it in some other type of excuse like not having enough time, really, if you told someone that if they did a couple of mundane tasks for a couple years straight and they'd end up with a business that's simple to run as a one-man-show be pulling down $25,000 per month – they'd make time for it.
My favorite way to phrase the challenge of building a profitable affiliate website is saying that it's simple, but not easy. As I outlined in my article about Pinterest doubling my income, you can earn $500-$1000 per day doing nothing but publishing listicles and creating Pinterest images. You can earn six figures per year promoting everyday products. Or, you don't have to sell anything at all.
The business model is simple. Getting from A to B is not easy though. There are many challenges along the way, and motivation to move forward into the unknown, with the feeling that you might be wasting your time on a fruitless endeavor is a big one. Many people smarter than myself make it sound easy, but for me, every day is a learning experience.
Because so many people quit, not knowing how much money they could have made, I wanted to use this blog post to show an example of what's possible when you actually follow through.
$25,000 Per Month Affiliate Blog In 5 Years Timeline
I started the website in June 2015, and made absolutely nothing in the first six months. This time was spent spinning my wheels trying to create listicle style content which I could advertise with Facebook ads. I was still using Google Adsense at the time, and trying to arbitrage my ad spend vs display ad earnings. That project crashed and burned, and I spent a lot of money I'll never get back.
I started tracking my earning and spending in Jan 2016 because I wanted a precise measure of how much money I was dumping into the site, so I could have a better measure of whether or not to dump it and start something new.
Side Note: Some of my income tracking is inconsistent. When I mark down earnings in my spreadsheet, I'm making them down as they are paid. Screenshots from affiliate companies are shows as earned within that month. Since there's a 30-90 day delay period on many programs, sometimes the numbers don't match up. It doesn't matter what the exact numbers are though, since we're looking mostly at the timeline and trajectory of a successful affiliate blog.
Year 1: $1300 Earnings TOTAL
In my first year of operation, from Jan-Dec 2016, I earned just a little over $2000 from various affiliate programs, including Amazon. Notice that I was only earning $30-$60 per month in display ad earnings! I didn't even break the $1000 per month mark yet, so that's a total income for the entire year!
You can read more about what type of blog posts I used to create this income in my blog post 3 Steps to $2,000 For Extra For Christmas.
The premise behind this idea of "earning money for Christmas" is that you don't have to jump in and start making tons of money in order to make a difference in your life. You don't need to go at writing affiliate blogs whole hog from day one. Wouldn't your family Christmas be a little better if you had an extra two grand saved up? You could buy more Christmas gifts for the kids, or buy a couple of plane tickets to somewhere warm, like Thailand.
Most people don't start thinking about the money stress of the holidays until Nov/Dec time. Why not start in January, work an extra 10-20 hours per week on your website, and start saving those earnings for the next 12 months?
Year 2: $2000 Per Month
The ultimate goal is to actually be earning reliable, consistent income from our websites, so although $2k for Christmas gifts is a nice idea, the work had to continue to grow the traffic and earnings to the website. December earnings pay out in February, so in the screenshot below look at February income.
Year 3: $3200 Per Month
December earnings pay out in February, so in the screenshot below look at February income.
Year 3 was pretty much standard procedure, just focusing effort on promoting affiliate products and publishing listicles (top 10 lists). I wasn't really tracking procedure at this point, so I don't have a lot of commentary for this year, other than consistent effort.
Hammering forward, day after day, no matter what, is the main bit of advice I have for anyone building an affiliate blog.
It's not always easy. In fact, what those numbers above don't tell you is that this site wasn't actually profitable at this point! Though it was making money, I had invested so much money into content and blog management that in terms of total cost, I was still in the red. It wasn't until late in your year 3 that I broke even, and starting in year 4 I actually began to be profitable.
It's a good example of how even if you're a "pro", sometimes things don't go according to plan.
Year 4: $12,000 Per Month
December earnings pay out in February, so in the screenshot below look at February income. In December of the next year I had broken the $10k/month barrier and rocketed on to earn $12,000+ for the month of December. All the screenshots are in that post as well.
The jump from $3200 to $12000 was clearly due to a large increase in affiliate commissions from Impact, but there was also a doubling of ad revenue for the month, and some scrappy commissions from a couple other affiliate networks. So although income is definitely concentrated in one area, there was broad growth as well.
Year 5: $25,000 Per Month
December 2019 brought in $25,000+, which paid out in February of 2020. 2020 is also the year where I started to focus more on Amazon earnings, so I expect 2021 to be another exceptional year, assuming there are no big surprises in the next few months. Year 4 to Year 5 was an income jump of 100%. That's pretty awesome. I don't know if I'll be able to make another jump of 100% YoY income growth, but I can dream, right?
Go ahead, add up the numbers!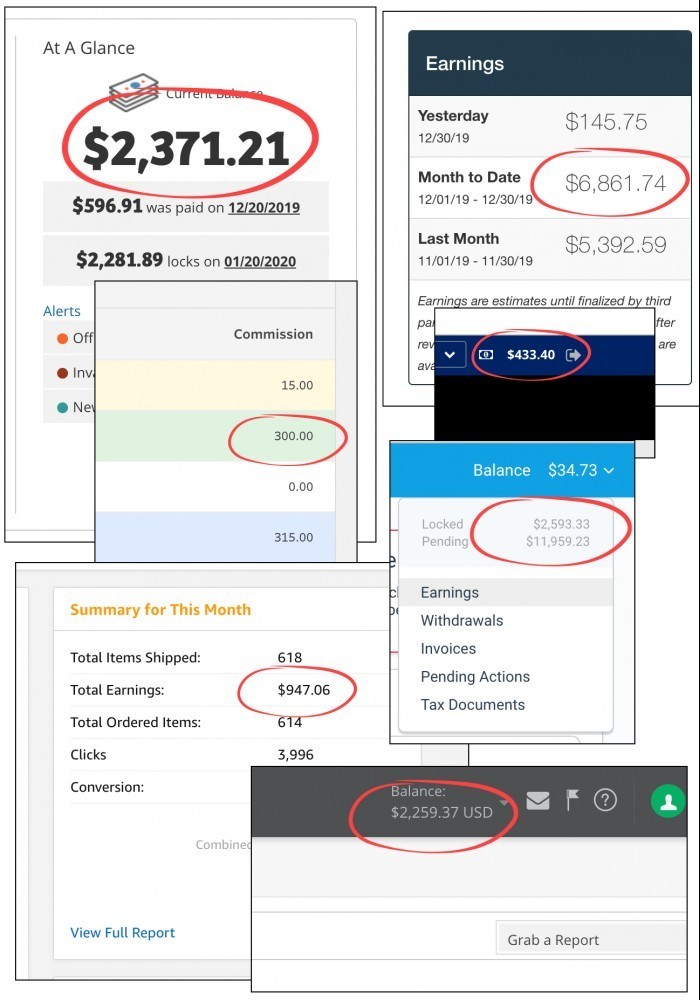 How Does This Compare With Traditional Jobs Incomes?
I don't like to go too far into "job shaming" like a lot of the MMO industry does. Hey. Some people like having a normal job. There's always tradeoffs. There's a lot less day-to-day worry when you have a job, and you're good at it. Someone else takes care of logistics. You clock out at 5. Weekends off. The boss pays your medical insurance and 50% of payroll tax. Taxes are a lot easier. There are some clear advantages to having a traditional job.
That being said, it's pretty amazing to me that you can create a $25,000 per month business in 5 years, which is pretty much how long it takes to graduate college with a four year degree.
Then, consider that's just a Bachelors degree. There aren't a lot of jobs which require only a 4-year degree and pay $300k/year. Jobs in the medical field will absolutely take at least 8 years, and sometimes a residency after. Not to mention the cost, which could mean you have to work past retirement age just to pay off all that student debt.
On the flip side, you can start a blog for less than $100, and in just a few years be generating a six figure income, with zero debt. Pretty stark contrast, right?
Of course, that doesn't account for job satisfaction. As I mentioned above, there are plenty of people who would not be interested in writing and publishing articles to a blog every day. They find much more job satisfaction in saving lives at a hospital, or working with people, or building new technologies to improve people's lives.
Jobs have meaning for a lot of people.
If you're reading this article though, you're probably in the same camp as me, and are totally cool with the tradeoff of not saving lives, but being able to work from home and get rich. If you want to know more about how I run my sites, I recommend you join my weekly email club below. Plus, here's my #1 recommend training. Where do you think I learned all this stuff?
[convertkit form=1526842]
Nathaniell
What's up ladies and dudes! Great to finally meet you, and I hope you enjoyed this post. My name is Nathaniell and I'm the owner of One More Cup of Coffee. I started my first online business in 2010 promoting computer software and now I help newbies start their own businesses. Sign up for my #1 recommended training course and learn how to start your business for FREE!