If you are interested in affiliate marketing, then you've probably heard some amazing stories. Many are fake, but some are real. In fact, I've lived some of them. One particular milestone I've accomplished at least a couple times is earning $1,000 per day in affiliate sales.
That's net income for the day, no "sales generated", which is a common tactic to inflate the numbers. I personally generated over a million dollars in sales in 2019… but I certainly didn't earn a $1,000,000 income. Regardless, earning $1,000 per day is pretty exciting. Though at this point in time (July 2020), this is the exception, not the rule, in my mind this is proof of concept. Earning $1k/day in affiliate sales is possible, and I don't need a massive, impressive website.
Much like when I made my first affiliate sale of $5 back in 2010, this proof moment really highlights what's possible with affiliate blogs.
When I made that first $5 sale, I immediately understood that I could repeat that process over and over to sale. Just $5 now could soon be $5 per month. Then $5 per day. Then $5 per hour. Even if I could just earn $5 per day from a website, that would be $1,825 per year. If I built 100 websites like that, it would be a six figure income. Of course, now I realize that's not a smart plan (it's much better to have one strong website than 100 weak ones), but anyway, my wheels were turning, and the same thing is happening now.
A couple of times per year I'll hit a $1,000 per day earnings mark and it reminds me that there's still so much more possible for my business. Five years ago I wasn't earning $1k/day. Then I had my first $1k day. Now I have them multiple times per year. In a few years, I may be hitting $1k/days every day, and striving for my first $10,000 per day.
PROOF: $1200+ Affiliate Earnings In One Day
In the screenshots below, the earnings are from June 21, 2020. That's Father's day, so obviously the earnings are going to be a bit more than usual due to the holiday. Skeptics will say, "Well, it's the holiday. You can't earn that much every day!".
First, there are lots of holidays. Mother's day. Christmas. Easter. Back-to-School events. Thanksgiving. Halloween. New Year's. Birthdays. The list goes on.
Second, this is just to show what's possible. My tiny little insignificant website can earn $1,000+ per day on some holidays, but there are websites out there with 10x my traffic and 10x my engagement. I do not have a strong, recognizable brand. I do not have any amazing rankings. I don't even have an email list. This is pure organic traffic from an average blog in the niche.
Shareasale Earnings: $114
Running Total: $114
Shareasale Affiliate Network Review
Commission Junction Earnings: $80
Running Total: $194
Amazon Earnings: $24
Running Total: $218
Amazon Affiliate Program Review
Flexoffers Earnings: $24
Running Total: $242
Flexoffers Affiliate Network Review
Mediavine Earnings $208
Running Total: $450
Impact Earnings: $920
Running Total: $1,370
Impact Affiliate Network Review
Is $1000 Per Day, Every Day, Realistic For Everyone?
Obviously that last screenshot from Impact Radius really shot over the mark. So is a $1,000 day dependent on earning a massive commission windfall from a single affiliate company on a couple days throughout the year? Absolutely not. The point I want to drive home is that you can earn a massive amount of money online by promoting everyday products.
For example, take another look at my Amazon earnings from June 2021.
Not very good. Just about twenty dollars. My earnings from yesterday (July 21) were more than double that. Not counting the Impact earnings, all I need to do is double the "low" commissions from other networks, and I'd be at $900 for the day ($450 x 2). Not quite a thousand dollars, but almost there. That would be a result of promoting items with just $4 – $12 commissions and less than 10,000 organic page views per day.
Just for reference, here's how the Impact affiliate network performed around the holidays. On Jan 1, 2020, it hit a high of $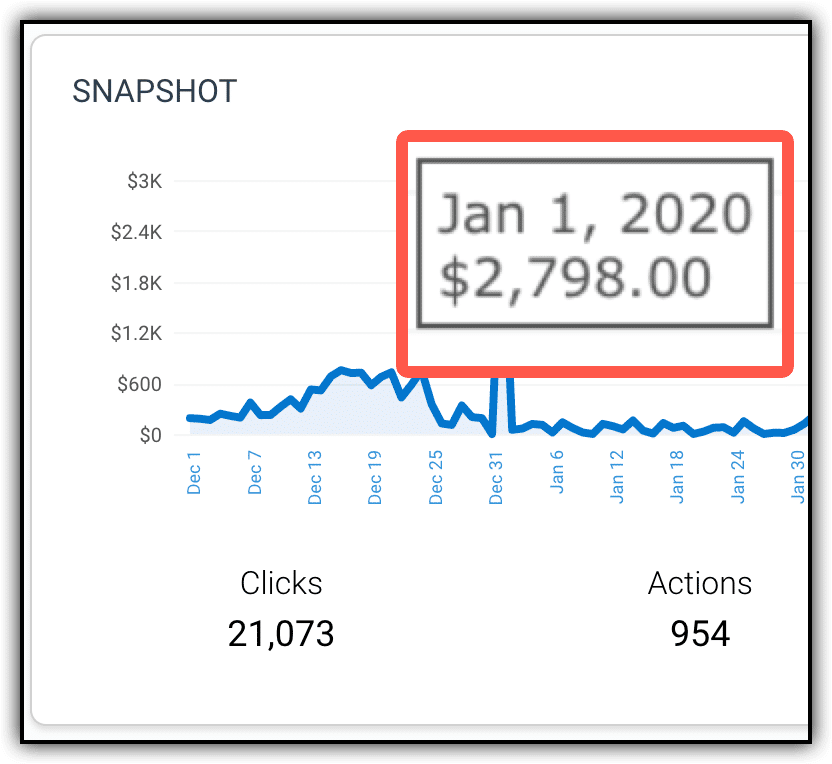 $1000 Per Day Affiliate Breakdown
This, isn't the first time I hit a $1000 per day in affiliate income. I posted about a previous $1k day in 2019 as well, around the holidays, and did a more in-depth look at exactly where the money was coming from. Like the story of the penny doubling every day for a month, it might seem unbelievable that you can earn that much money with small affiliate commissions. However, it's true. Here's the full breakdown of what earning $1000 per day in affiliate commissions looks like.
12 Sales, $52
8 Sales, $12
4 Sales $13
3 Sales, $1
3 Sales $49
1 Sale, $18
1 Sale, $40
1 Sale $9
1 Sale $37
1 Sale $10
1 Sale $6
1 Sale $37
7,305 Visits, $40 RPM
That's a total of just 37 sales across 12 companies, plus some basic ad revenue. The RPM is a little higher than normal since it was around the holidays, but even if the RPM was chopped in half you'd still hit $1k/day in earnings using the metrics above.
It doesn't seem that spectacular when you break it down, right? That's good news. It means that even you could be earning $365,000+ per year from your affiliate website.
A Quarter Million Dollars Per Year & A 7-Figure Exit
Even if you don't hit a full thousand dollars per day, you could probably still pull down a quarter million dollars per year from your affiliate website without some crazy business plan. Just a person at home with a laptop, a couple of outsourced writers to help you scale your content publishing.
On top of that, if your site is earning $365,000 per year, at 36x monthly earnings, that puts a 7-figure price tag on your business. You could sell your website for $1,095,000!
It may seem like a far fetched plan at this point, but it's possible. Keep grinding. Keep learning. Make long term goals but build small, consistent habits to help you reach those goals. A lot of affiliate marketing programs out there make it seem like starting an affiliate website is super complicated and you need to be very analytical or smart to earn money. After building sites for 10 years, I've come to the conclusion that pretty much anyone can earn a good living from a single affiliate website as long as you have a good work ethic.
Here's how I build my affiliate sites and how you can get my 1-on-1 coaching as you build out your own future $1,000-per-day business.
Nathaniell
What's up ladies and dudes! Great to finally meet you, and I hope you enjoyed this post. My name is Nathaniell and I'm the owner of One More Cup of Coffee. I started my first online business in 2010 promoting computer software and now I help newbies start their own businesses. Sign up for my #1 recommended training course and learn how to start your business for FREE!