What's up everyone, my name's Nathaniell, and I'm the guy who started One More Cup of Coffee. I teach people how to make money from blogging. I've been doing this successfully for more than 10 years now, and honestly, it's a lot easier than you think. I can definitely show you how to do what I do, and how to design a pretty awesome lifestyle for yourself.
For me, being in this business isn't about getting rich. It's about having time to do the stuff I really want to do, like fix up my house, make beer on the weekends, and spend time with my family. In fact, the name One More Cup of Coffee came from the days when I worked a real job and hated having to rush out the door every morning.
All I wanted is a little bit of extra time in the morning for a second cup of coffee.
Well, that dream came true, and I can show you exactly how I did it and how you can repeat the same process for yourself.
I wasn't always an internet marketer; in fact, I've done quite a few different jobs over the years.
Internet marketing was just the career path that 'clicked' for me, mostly because I could do it from the comfort of my own home and according to my own schedule.
But let's start a bit further back; if you're going to get to know me, you should know a bit about where I'm from and what I've done.
People always ask me…
They say, "Well, you got started in 2010. Did I miss the gravy train? I'm sure there's too much competition now, so I'd never stand a chance!"
But the funny thing is that it's easier than ever to make money online. Why? There's two simple reasons:
More products are being sold online now. People are shifting more and more of their shopping habits to the online world and that just wasn't the case even 5-10 years ago. Even small businesses and grocery stores are selling their products on the internet!
There are more tools to make starting your business easier. Before, you had to code everything in HTML and be internet savvy. Now, there's tools to automate everything. Thousands of people have made the journey before, and you can use their wisdom to make your path easier.
It's kind of like traveling. In the past, you had to take a ship and spend weeks on the ocean to reach far-off places. Once there, you had to make your own adventure!
Now, You can reach any destination in the world within 24 hours. There's a guidebook for every country in every language, and there are smartphone apps for instant translation to your native language.
Nowadays, it's easier than ever to get started making money online because there are so many more resources available to you, and you can just "follow the guidebook" to get where you need to go (owning a money-generating website).
So, back to the story of how I got started…
I grew up in California, but left soon after graduating high school to travel in Europe. I was completely bored in the US and wanted to see the world. At the time, I had a friend living in Prague, so used her house as my "home base" between trips. When I needed money, I freelanced as an English teacher.
Eventually I landed a pretty sweet job as a kindergarten teacher, so I was officially getting paid to play duck-duck-goose and hide-and-seek for a few hours a day.
After a few years doing that, I broadened my horizons and set my sights on China. I wanted to learn Mandarin and start the next chapter in my travels.
China was wild. I made tons of friends, traveled all over the country, and became fluent in Mandarin.
But after being in China for a while, I began thinking about my future. It had been ten years since I left the US. I was having a blast traveling, but I had no job security and saving any money very difficult working for low wages.
So I hatched a crazy plan to make US dollars while working in China. I wanted to start an internet based business so that I could work on my computer in China but earn US money. Even just $30 per day was basically a full time income in China.
It took me about six months of fumbling around: browsing around different sites, joining tons of mailing lists, watching hours of promotional videos, and following my share of purported "gurus" before I came across Wealthy Affiliate.
They were the legit online training center I was looking for. After three months of training I had made my first sale through my website. Six months after that I was generating regular sales. After a total of eighteen months working on my website I was earning over $10,000 per month so I quit my job in China and bought plane ticket back to the USA.
Thanks to my affiliate websites, by 2013 I owned my own home, a brand new truck, and a motorcycle! As of 2021, I'm married with a son, and still working from home "full time" (about 3 hours a day).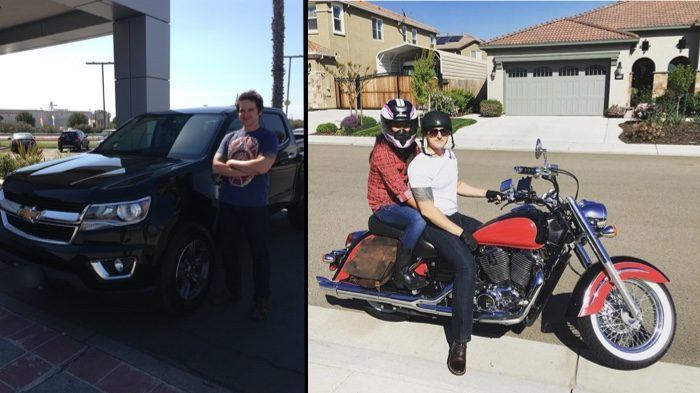 Personally, I'm kind of done with traveling for now and enjoy being a homebody. I like tinkering with my house and going on walks with my wife. It's a simple life. No Lamborghini's and no private islands, but I have a family and a couple hobbies, and I'm good with that.
One More Cup of Coffee is about helping you craft your own version of the perfect life. Where do you see yourself next year? What about 10 years down the road?
The cool thing about starting an affiliate blog is that you can take your business anywhere in the world and work at any hour of the day, any days of the week. You don't need any qualifications or prerequisites to learn. No degree required! You can learn everything online, and learn at your own pace.
Making money from your blog is pretty simple, but it takes a lot of work. Don't expect this to be a get-rich-quick thing. If you're ready to put in the hours consistently over the next year or two, I'm ready to share my knowledge with you and help you start earning money on the internet, through your own blog.
You pick the topic
You pick the products
You write the content
You reap the rewards
Get your free membership to Wealthy Affiliate.
Become An Affiliate Rockstar
My #1 Rated Training Program
Become an expert affiliate marketer and earn money from home with my #1 rated affiliate training program. Start today!
If you have any questions or comments about me, my business, or online business you can leave a comment below! I check these weekly, so will get back to you ASAP.