Not too long ago, I reviewed two sites that were created by the same company… ParentSpeak, and KidzEyes. And now, I am reviewing a third created by the same company… and it is called TeensEyes. But can you really make money with the TeensEyes survey website?
This is what I set out to discover as I tried it for myself.
Making Money With The TeensEyes Survey Website
The first thing to do is talk about the itself. These sites were all created by a company called C+R Research, and all seem to offer similar things.
They offer sort of an online community that users can access in their relevant demographic (parents, kids, or in this case, teens), and surveys that you can take to earn points that you can then cash-in for rewards.
My first impression of the TeensEyes website (located at Teenseyes.com) was actually not the greatest, mostly due to the landing page. I mean, I know that companies often think that they have to market to teens in styles that are eclectic and different, but I really felt like this one was a bit 'on the nose,' so to speak.
But whatever. I tend not to judge books by the cover… so I was not about to judge TeensEyes by its landing page.
I will, however, say this. It would seem that this site is dedicated to teens… and if I understand it correctly, only teens can actually make money on this site through surveys. So if you are an adult, and your aim is to find a side-hustle or a way to make extra through a survey-site, then TeensEyes is probably not for you.
But… if you are a teen who is looking for a way to make some extra cash, or if you are a parent looking for some money-making opportunities for you teen, then this may be the site for you.
At any rate, here is what I discovered about it.
The Basics: A Quick Look At TeensEyes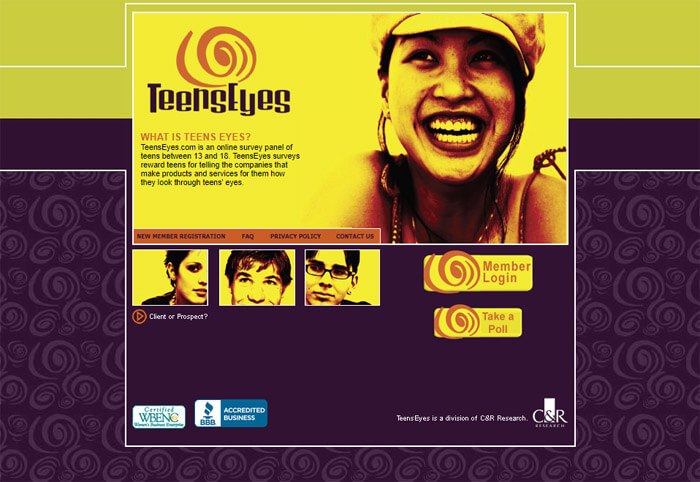 On the landing page of the site, there are several different tabs that you can click on to visit different pages. There is a New Member Registration tab, a FAQ tab, a Privacy Policy tab, a Contact Us tab, and buttons labeled as 'Member Login' and 'Take a Poll.'
I wanted to see what I could find in the FAQ section, so I clicked on that first.
What I ended up finding was quite interesting. There was a lot of good information on this page. To start with, I found a good description of exactly what this site was. Here is a quote from it…
"TeensEyes.com is an online survey panel of teens between 13 and 18. TeensEyes surveys reward teens for telling the companies that make products and services for them how they look through teens' eyes."
I also learned that, like the sister-website KidzEyes, TeensEyes sends out about 1 to 2 surveys per month. Now, this isn't necessarily a bad thing, especially when you consider the nature of the site and how it works… but we will talk more about this later on.
Another thing that I learned in the FAQ section was how much you can expect to get paid for surveys. Every time you complete a survey, you will receive an award, in the form of points, which are basically worth one penny each. So, 100 points equals $1, etc.
Now, the FAQ also pretty specifically said that surveys could be worth anywhere from $2 to $20 each. This is a pretty broad range, but it was still nice to hear it in the FAQ section.
Payouts are via check, as they are with the other survey sites administrated by this company.
At this point, I felt like I had figured out enough to know the basics… so I was pretty excited to sign up and see what that process was like. That is the step I took next.
Signing Up For TeensEyes
I clicked on the registration button to join TeensEyes, and got this message.
This happens sometimes, but I will admit that it still surprised me. I guess there are more teens out there taking surveys than I figured there would be. That, or there are not as many teen-specific surveys as I estimated.
At any rate, this did halt my progress a bit… so I decided to change things up by doing some research online. What were other users saying about TeensEyes?
Here is what I found.
What A Google Search About TeensEyes Taught Me About The Website
I did a quick Google search of TeensEyes to see what I could find, and surprisingly, I didn't find very much.
There were a few obvious review-type listings, seemingly written to provide content for sites that are talking about paid surveys, probably to generate web-traffic… and they seemed to have been written by people who had not actually visited the site.
But there were no user comments or anything on the pages that I visited… so it was pretty difficult to figure out what the 'public opinion' was about this site.
These reviews seemed to label this site as 'legitimate' and 'a good way for teens to earn some extra snack money,' but seemed to show little validation for such claims.
This was a bit of a let-down for me, yet again. A lot of the more popular survey sites out there have a more positive reputation, or are at least more well-known. Maybe this site isn't quite as busy as some of the others.
Or maybe, it is just not offering as many surveys as some of the others. Or… maybe the teens on this site are doing a good job of keeping it a secret so that they can keep all of those surveys to themselves!
At any rate, I felt like I had learned more than enough about TeensEyes to deliver my official opinion on it.
What Did I Personally Think Of TeensEyes?
On one hand, this site could never make a good side-hustle opportunity for me, because I am no longer a teenager. So that, right away, narrows down the playing field a lot.
And if I had been a teenager, this site would not have worked for me because it was not accepting new members when I went to sign up for it. I wish that I could comment on the technical aspects of the site… but to be completely honest, I didn't even get to use the site enough to see how it worked.
All I did was navigate the basic menus… and while this did work well, it didn't give me much information. The FAQ section is pretty well filled up with information—but this is really all that I was able to gain from checking out the site.
I am not completely sure that this site is even functional anymore. I mean, the message I saw when I tried to sign up seemed to indicate that they would be accepting members at some point in the future—but how long has that message been up?
Some of the reviews I found for the site in my Google search dated back to 2015 and 2016. That is not a super-long-time ago, but it isn't yesterday, either.
My guess is that the site probably still functions… they just probably don't send out a lot of surveys, and they probably already have more than enough participants for the work they have.
If you are a teen and are looking for a quality side hustle, then it might be worth your time to try to sign up for this one—but don't expect to get rich. There are a lot of ways to make extra money and nurture your entrepreneurial spirit at the same time… so focus on those types of opportunities and you will likely do better than you ever would on this site.
I do like that this is a site for teens. It is nice to see that teens have some dedicated resources like this to turn to for extra money. But unfortunately, from the looks of it, it just doesn't seem like TeensEyes has a whole lot to offer, in any category.
If I were a teen and were looking for a side-hustle, I would probably just skip this one, to be honest. I doubt that it would even be worth the sign-up time—but I could be wrong.
A side hustle needs to earn you enough cash to make it worth the effort. But it also has to be consistent enough to make it worth sustaining. Granted, you could 'set it up and forget it,' but if the surveys aren't worth more than a dollar or two each, it could quickly end up becoming more of a burden than a benefit.
Our Final Thoughts About The TeensEyes Survey Website
Should you sign up for it and use it to earn some extra cash?
The TeensEyes Survey Website Review
To be completely honest, doing online surveys will never earn more than minimum wage. In fact, most people rarely earn more than $1-$3 per hour, if they are lucky enough to get a payout.
If you want to legit make money online you need to invest time into building a website. Earn passive income through affiliate links & advertising revenue. Rather than spend an hour trying to answer boring questions, build a real web property that you can earn monthly income from.
Nathaniell
What's up ladies and dudes! Great to finally meet you, and I hope you enjoyed this post. My name is Nathaniell and I'm the owner of One More Cup of Coffee. I started my first online business in 2010 promoting computer software and now I help newbies start their own businesses. Sign up for my #1 recommended training course and learn how to start your business for FREE!