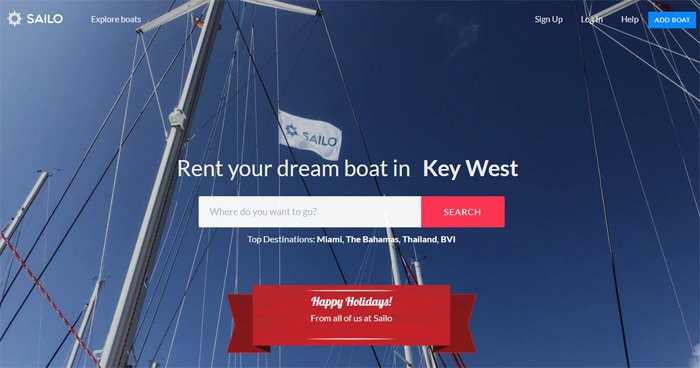 This is the second share economy website that I have looked at that gives boat owners the ability to rent out their boat to other people.
I love share economy sites for many reasons, but I still found myself wondering if this was going to be a site that would actually allow you to earn any sizeable amounts of side-hustle cash. Can you really make money with Sailo.com?
Making Money With Sailo.com – Why Bother?
With share economy rental opportunities like Airbnb making new headlines as a super-affordable way to rent rooms and houses for vacations and overnight stays, we can see that the new 'business model of the future' has finally arrived. The style has clear advantages for income, giving you flexibility that you'd never find with a second job.
Many people say that the share economy is the future of commerce. It removes the 'costly middle man' factor, helping people rent and share things with each other for fractions of what it would cost to rent or buy that same thing from a commercial company.
There is also a side-hustle factor to share economy to be considered. If you own a boat, but only use it one or two days out of the year, what is to keep you from renting it out now and then to help you earn back some of your investment for it?
This is the beauty of share economy, and that is exactly what Sailo.com helps you to do.
So I decided to delve a bit deeper, to see if this site actually offers enough value as a side-hustle to make it worth the time. Obviously, you need a boat to make use of it… but if you do own your own boat, should you use Sailo.com as a side hustle to generate some extra cash?
The Basics: What Is Sailo.com?
Sailo.com is pretty straight-forward from a renter's perspective. You search through the available boats listed on the site until you find one you like. You then choose your dates, rent the boat, ask the boat rep any questions you may have, and enter your payment information.
Then, you simply show up at the boat dock on the appropriate day to enjoy your time on the water in your rented craft. You can then leave feedback about the experience on the site. It is a pretty cut-and-dry process. It doesn't get much simpler than this!
But this is the process from the renter's side. I wanted to find out more about what it would take to actually list your own boat for rent on Sailo.com.
I looked at the footer and found a good section about why anyone might consider listing their boat on Sailo. Here is a little infographic that helped to communicate the benefits.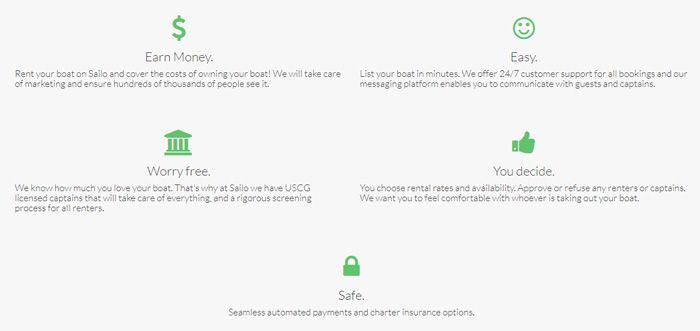 All in all, the benefits were also pretty clear-cut and defined.
You can earn extra money
Renting out your boat using Sailo is easy
They offer a lot of perks, like messaging within the platform and 24/7 customer support
The company supplies USCG licensed captains to take care of everything so that you can be sure that your boat will be well cared for
You choose your own rental rates, and have the right to approve or refuse any renter or captain
They offer automated payments and charter insurance options, to make sure that the deal, and your boat, are secure and safe
Owning a yacht or some other kind of large boat is not cheap. So websites like Sailo.com, which can help you to mitigate the cost of owning a boat, are pretty cool. They help you to turn what would otherwise be a liability into an asset, which is pretty awesome.
How Much Can You Earn With Sailo.com?
Sailo will let you list boats at a price that works for you. With that being said, they also maintain an on-site calculator to help you figure out how best to price your boat, which is quite nice.
I have seen boats that rent out on the site for $600 for a half day, $650 for a quarter of a day, $3,000 for a quarter of a day, $400 for a half day… etc. The price is absolutely dependent on the type of boat you have.
So to put it simply, the more expensive your boat is and the more often you rent it out, the more money you will stand to make.
Of course, location plays into this as well. Most of the boats I saw were actually ocean-fareing vessels, though it also seems that there are at least some boats that fit into other categories. Most of the boats on this site were pretty big…
I didn't see any small, simple single-motor boats or anything like that. If you have a small boat or another type of watercraft, the service GetMyBoat might be a better choice than Sailo.com.
I also saw that Sailo.com was available all over the world, especially in places more well-known for their tourism attractiveness in terms of being a 'waterfront' location.
Does It Cost Anything To Use Sailo.com?
Sailo.com charges a 7% service fee on every rental rented through their website. They also charge boat owners a 14% commission fee every time they rent out their boats.
This fee is a bit on the high side when you compare it, on a percentage basis, to what some other websites are charging—but at the same time, this website is dealing with big-ticket rentals, so it is not so surprising that they would charge a bit more.
Whenever your boat rents out, you are obviously going to be making a majority of the money being spent on it as the boat owner… which is kind of the whole point of the site.
Also, obviously, you will need an appropriately sized boat before this site would be usable to you… but if you do happen to have one, it could actually prove to be a great side-hustle.
Owning a boat is actually kind of a big deal. Most of them aren't cheap, and they cost quite a bit to dock, store, and maintain.
If you do own a boat, there is a good chance that it is already costing you quite a bit. So using a side hustle like this can do a lot to help you offset the costs of maintenance and ownership.
Where Is Sailo.com The Most Popular?
The top destinations that this website uses are places like New York, Miami, British Virgin Islands, Croatia, Greece, Nassau in The Bahamas, Windward Islands, the Canary Islands, and other similar destinations.
You will find some ships listed in the Great Lakes in the United States… but by far, the vast majority of the ships listed can be found in and around the ocean.
This isn't so surprising, though! This is where most of the largest boasts are located anyway… so this makes sense.
My Personal Feelings About Sailo.com
Surprisingly enough, this is not the first share economy website for boats that I have looked at. But, I did like it.
I do not own a boat, so this site would not work very well for me personally. But I know a few people who own boats, and I would doubtlessly tell them about the site in hopes that it could help them out.
I love share economy sites in-general, and personally I feel like this one has a lot of potential. One thing that I have never seen before is the idea of adding a 'captain' to the mix.
This site will actually help to schedule captains for the boats as well, which is pretty cool. This would make it far easier for people to approve qualified captains or say 'no' to captains that they are not sure about before they allow their boats to be taken out.
I also like how this site offers insurance options for renters as well. As already stated—a boat is a pretty expensive piece of equipment. I am pretty happy about the idea of insurance being offered to help protect the owner's interests in the event of something happening to it!
In the end, I feel like this is absolutely a great way to help turn a boat into an asset. It is really no different from Airbnb, but for boats instead of for houses. If you own a boat that is docked at the ocean or on a larger lake, I would seriously consider looking into Sailo.com to help you make some extra money with it.
You would always have the final say in allowing people to rent your boat as well, so that further allows you to protect your investment.
All things considered, I liked Sailo! It may not make you rich, but it can take up a spot in your life as a good side-hustle, and that is pretty cool!
Our Final Opinion About Sailo.com
Should you list your boat and try to earn some extra money renting it out?
There are a lot of ways to make money online. Some are good, some not, but ALL of them are still just trading hours for dollars.
Starting your own affiliate website really is the best way to build passive income and "make money while you sleep". Affiliate websites earn income in every timezone, and can be instantly accessed by billions of smartphones across the globe!
Nathaniell
What's up ladies and dudes! Great to finally meet you, and I hope you enjoyed this post. My name is Nathaniell and I'm the owner of One More Cup of Coffee. I started my first online business in 2010 promoting computer software and now I help newbies start their own businesses. Sign up for my #1 recommended training course and learn how to start your business for FREE!