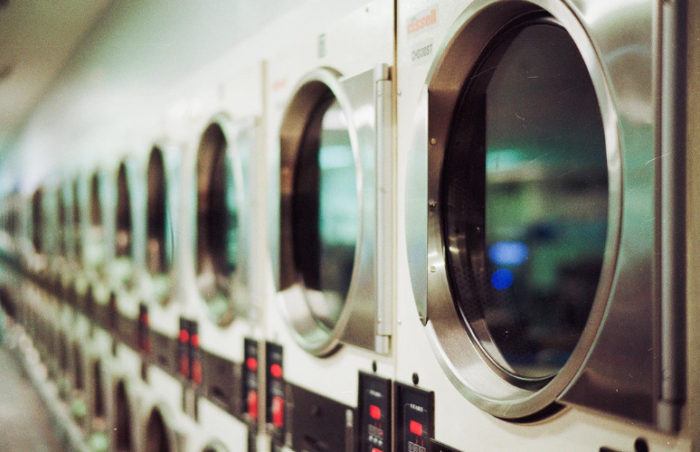 There are a lot of side hustles out there. In fact, wherever you can find a need, you can find a way to make extra money… and there is certainly a need for clean laundry in our modern world! But can you really make money doing laundry?
Could the average person really turn this into a service that they could earn a profit with?
Let's talk about it!
Making Money Doing Laundry
There are actually a few ways to earn money doing laundry. This means that we first need to talk about the different approaches that you can follow to make the idea work.
And yes… just in case you were wondering, there are people who do this.
There are people who make money doing laundry through websites/apps like Laundry Care, but there are also people who do it on their own… as freelancers!
So in this article, we are going to talk about different ways that you could go about making money with this side hustle.
If you're wanting to earn some extra cash, and don't mind doing some laundry at the same time… then this is most definitely a side-hustle that you could probably earn some decent money with!
Step One… Figure Out How You Want To Do It
There are a number of different ways for how you could set up this side-hustle.
But the two most important questions to answer are this.
How do you plan on getting the laundry?
How and where do you plan on doing it?
What kinds of resources do you have? Do you have a washer and dryer of your own that you could use?
Do you have access to a laundromat?
What about picking up the laundry? Do you have a car that you could pick it up with? Could you have people drop it off at your house/apartment? Do you have the ability to drive around to client's houses and do the laundry there?
There are a lot of ways to put this kind of hustle together. On the website Laundry Care, you have to own a washer and dryer of your own, and be willing to pick up laundry and then deliver it again when it is clean.
For this, you get paid $20 per 'bag' of laundry. The bags provided come in a kit that you buy for about $40. Each bag holds about 2 to 3 loads of laundry.
As far as payment goes, transactions happen through the app. The money that you make is held in the 'My Wallet' portion of the app until you pull it out.
This is actually a pretty cool app and service… though it only services larger metropolitan areas. If you want to start this kind of service, then you may have to go it on your own if you don't live in one of the serviced cities.
Another really good thing to keep in mind is that laundry is usually a 'repeat business' service. Which means that contracts are usually weekly or bi-monthly. This means that once you earn a contract with a client, you can usually count on regular work from that client every week or every-other-week.
This is really good news for someone in a service industry, as repeat work is GOLDEN.
So, the first thing that you will have to do is figure out whether or not you want to/can use the app. And if not, then how do you find clients and get paid for doing their laundry?
Step 2… Sign Up For The Laundry Care App, And/Or Start Advertising
Signing up for the app is obviously a great way to get put in touch with people who need this kind of service.
But… it doesn't stop there. Whether you plan to use the app or not, it certainly won't hurt you to look for clients in other places as well.
For this, you may want to simply start by printing out some really nice business cards and spreading the word to immediate family, friends, and co-workers.
It might be easy to grab a client or two this way, but remember that businesses like this can take some time to put together. It may take you several weeks, or even months of marketing, to come up with enough clients to qualify it as 'viable.'
You can also advertise your services on social media and on other online marketplaces. You can go to business networking meetings to spread the word about what you do, and also try to partner up with other independent contractors with complementing services for referrals.
Do you know someone who babysits? Do you know someone who cleans houses (or who cleans yards)? If so, make referral deals with them and build your own service network!
The types of people who pay babysitters and/or house cleaners are probably also the types of people who are more likely to hire someone to do their laundry.
You can also go door-to-door and give out cards in different neighborhoods close to your base of operations.
The biggest thing to remember, though, is not to give up. Starting a side hustle like this can take time and energy.
Step 3… Start The Side Hustle
As far as I can tell, the best way to handle this type of side hustle is to pick up the laundry from the clients all on the same day, do the laundry at your own home or at a laundromat, and then deliver it all back to the clients again.
Giving clients a cool laundry bag with your own logo and business name on it couldn't hurt either!
You will need to make sure that you don't wash and dry any clothes that are not meant to be washed or dried. You will also need to make sure that you do a good job of picking out laundry soap and fabric softener.
The entire point here is that you want to deliver quality work so that your clients will value what you do and continue to use your service for their laundry needs.
Obviously, you may need to find some creative ways to market your side hustle… but the main thing to keep in mind is that you need to work on building up your client base.
Without clients, this side hustle wouldn't make you a lot of money.
How Much Can You Earn Doing Laundry?
I once went to a laundromat in my local area that also offered a laundry service. You dropped off your laundry, and then picked it up again the next day.
They charged by the pound. I found out that about 2-3 loads of laundry would cost me about $30 to get done.
The app above says that you can earn $20 for that same amount. Plus, if you pick it up and deliver it regularly, you will obviously be delivering even more value for the money than the laundromat I visited.
So, $20-$30 for 2 to 3 loads is about what you could expect to charge and earn with a side hustle like this. Obviously, if the client had larger laundry needs, you could expect to get paid more.
I really like how the app uses laundry bags to determine how much laundry is worth the fee. That is actually a really useful way to measure it without making it too complicated.
You could potentially get a lot of business going for this side hustle if you built your own website and marketed yourself online. This may be more trouble than you are willing to go-to, though, if you are just doing it on the side and have no intention of getting more than a couple of clients.
But if have the ambition to make this a side-business that could potentially turn into a full-time gig, building your own site and marketing online with it could be an awesome way to get traffic and win new clients.
A website could also give you something to print on your cards, and a means for showing new customers what they could expect from your service.
My Personal Feelings About Making Money Doing Laundry
Service-based side hustles like this are awesome, but they do require a time investment, as you need to find willing clients before you can expect to make any money.
The start-up cash required for this hustle would also be minimal.
All you would really need to get started are some laundry bags, access to a washer and dryer, laundry soap, fabric softener, and a car to pick-up and deliver the laundry with.
If you are not using the app, you could collect payment with options like cash, check, or PayPal. A lot of freelancers use PayPal for things like this, and that seems to work pretty well!
Doing laundry for money as a side hustle is not that bad of a hustle, actually… because it gives you the opportunity not only to earn cash doing something that is pretty easy, but it also gives you repeat-business… which is golden.
It may not make you rich, but it could really kick off if you did it right… making it more than worth the time.
Our Final Opinion Of Doing Laundry As A Side Hustle
Should you start doing laundry as a side hustle to make a bit of extra money on the side?
There are a lot of ways to make money online. Some are good, some not, but ALL of them are still just trading hours for dollars.
Starting your own affiliate website really is the best way to build passive income and "make money while you sleep". Affiliate websites earn income in every timezone, and can be instantly accessed by billions of smartphones across the globe!
Nathaniell
What's up ladies and dudes! Great to finally meet you, and I hope you enjoyed this post. My name is Nathaniell and I'm the owner of One More Cup of Coffee. I started my first online business in 2010 promoting computer software and now I help newbies start their own businesses. Sign up for my #1 recommended training course and learn how to start your business for FREE!